UPCOMING EVENT
For Details Please Visit:
*****************************************************************************
Brought to you by Classic Chatter
Classic Chatter is an independent website for owners & enthusiasts of all types of
historic vehicles.
As well as our main website we post regularly on our sites related to Showroom Classics, Auctions & Events News
TODAY WE FEATURE
LES GRANDES MARQUES DU MONDE SALE
AU GRAND PALAIS
THURSDAY 8TH FEBRUARY 2018
3 Avenue du Général Eisenhower, 75008 Paris, France
1925 HISPANO SUIZA H6B 32CV CITY COUPE
Carrosserie Kellner, Paris
Chassis # 11038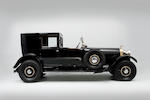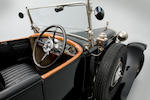 • Luxury brand
• New delivery in Paris
• First owner Mr Pierre Lorillard Ronalds
• Formerly owned by Mr Alain Balleret, founder of the club Hispano-Suiza of France
• Restored by Mr Balleret (end of the 1960s / early 1970s)
The chassis 11038 was shipped by the factory on November 27, 1924. Its first owner, Mr Pierre Lorillard Ronalds had asked for an elegant body style razor-edge coupe city by the body Kellner, one of the very chic Parisian coachbuilders.
Mr Ronalds was from one of the oldest American families whose vast fortune came from New York's Lorillard tobaccos.
His home at 11, rue de la Baume, is still one of the most beautiful buildings in Paris.
11038 was his fourth Hispano-Suiza and he kept it until his death in February 1928 when she passed to another client Hispano-Suiza, Carmen de Romero of Paris.
We go directly to the summer of 1967 when photographer Ludo Pivron was refuelling his Delahaye 135MS at a gas station in the French countryside.
He routinely asks the mechanic if he knows "old cars" in the area.
He is then told a local scrap dealer in the hangars of which he is surprised to find this Hispano.
In a letter in the record, Mr Pivron remembers that the hangar was well ventilated and that the Hispano had been well preserved, a complete survivor in a remarkable original state and apparently having arrived there by his own means.
The price of 3,000 Francs exceeded what could be afforded Mr Pivron and a few weeks later he learned that Hispano-Suiza was now in Paris where it was displayed on sale for 9,000 francs!
This is where the car was bought by a friend of Mr Pivron, an industrialist who after years of careful restoration made this sumptuous H6B to its former glory.
The industrialist mentioned above was Alain Balleret who, in the 1930s, was head of the experimental department of Hispano-Suiza.
In the 1970s, Alain Balleret founded the Hispano-Suiza club in France and, until his death on January 1, 1988, organized many Hispano-Suiza events, many in collaboration with the American club (see letter from the daughter of Mr Balleret on file).
The H6B was restored by a master coachbuilder near Saint-Etienne, Mr Saillant (now deceased) and was used for the wedding of the daughter of Mr Balleret in June 1971. Since then, she took part in many rallies including the Monte Carlo in 1973. In possession of Mr Balleret, 11038 was the common garage with the fabulous and unique Hispano-Suiza Xenia, now in an American collection.
Following the death of Mr Balleret, Hispano-Suiza body Kellner remained pampered in a shed family castle.
Emerging in 2007, after being used for the last time at the Barcelona-Paris Rally of 2003, she was sent to Switzerland to a professional conservator.
The carburettor was rebuilt by a French specialist, Umpaler, and the running gear was carefully checked, cleaned and tested.
Hispano was then offered for sale Bonhams Olympia in December 2008 (Lot 682) where it was purchased by the seller.
According to the 2008 catalogue: "A recent test drive saw the car market at a brisk pace.
Oil pressure was good, steering and brakes accurate and all mechanical and electrical systems were working properly.
And to everyone's surprise, in a straight line, this 84-year-old lady was perfectly fit in modern traffic.
The engine block has been carefully checked for corrosion ... and has received a certificate of good health. "
This typical French town coupe, repainted in its vintage cellulosic black, is sumptuously equipped with its original tilting Blériot headlamps, a formidable electric Cicca Tenor trunk and side lanterns mounted on the windshield.
The front compartment upholstery is in black leather and beige fabric on the back with Cuban mahogany panels and original bone door handles.
Other luxury features include electric interior lighting, downward driver separation, valuable storage space for the rear passengers and a driver's intercom.
Also noteworthy are the side-mounted spare wheel, the two-part opening windshield, a detachable toolbox, a polished aluminium instrument panel with Hispano-Suiza instrumentation, optional Ram telescopic front shock absorbers, and a safety deposit box. Removable back luggage filled with custom suitcases (with their original keys) for long trips.
Since its acquisition by the seller, 11038 has been regularly maintained and little used.
Sold with the car, you'll find a fascinating historical file containing the old French registration card, UK V5 registration papers, maintenance sheets, various invoices, photographs and the correspondence mentioned above.
Offering the best of automotive fun, suitable for all climates in the open or closed, offering exceptional roominess in its sumptuous rear compartment for guests or to occupy the youngest passengers, this elegant Hispano-Suiza is the perfect car for the pleasure of long exceptional rallies reserved for the elite or for very chic elegance contests
.
SELECTED BY - IDRIS THE SQUIRREL









Disclaimer:

Whilst Classic Chatter ("we") attempt to make sure that the information contained in this website is accurate and complete, we are aware that some errors and omissions may occur from time to time. We are not able, therefore, to guarantee the accuracy of that information and cannot accept liability for loss or damage arising from misleading information or for any reliance on which you may place on the information contained in this website. We highly recommend that y check the accuracy of the information supplied. If you have any queries with regard to any information on our website, please contact us at

j

e

f

f

.

c

l

a

s

s

i

c

c

h

a

t

t

e

r

@

m

a

i

l

.

c

o

m