Brought to you by Classic Chatter
Classic Chatter is an independent website for owners & enthusiasts of all types of
historic vehicles.
As well as our main website we post regularly on our sites related to Showroom Classics, Auctions & Events News
TODAY WE FEATURE
BONHAMS AUCTIONS
THE BOND STREET SALE
SATURDAY 2nd DECEMBER 2017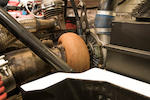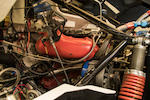 c.1986 Ford RS200 Evolution Group B Rally Coupé
Coachwork by Carrozzeria Ghia/Tickford
Registration no. not UK registered
Chassis no. SFACXXBJ2CGL00105

*Ultra-rare Group B rally car
*More powerful Evolution model
*One of only 24 made
*Used for hill climbs and rally-cross in period
*Engine built by Geoff Page Racing (600bhp+)
*Registered in Norway
FOOTNOTES
Masterminded by its European Motor Sports boss, Stuart Turner, the RS200 was Ford's ambitious attempt at producing a championship winning Group B rally car. Immediately prior to the project's inception, Ford's frontline rally car had been the front-engined, rear-wheel driven Escort RS1800, while its intended replacement – the Fiesta-based RS1700T - was another rear-wheel-drive design. However, by this time Audi's Quattro had convincingly demonstrated the efficacy of four-wheel drive in rallying, prompting a drastic rethink at Boreham.

Overseen by Ford Motor Sports Chief Engineer, John Wheeler, the RS200 project commenced in 1983 with production of 200 cars planned in order to meet Group B requirements, hence the name. The design, by Tony Southgate, eventually crystallised as a compact mid-engined coupé powered by a turbocharged version of the 1.8-litre 16-valve Cosworth BDA engine (the BDT) and equipped with four-wheel drive. This engine produced 250bhp in road-going trim with up to 500bhp available in rally tune. Ford's Italian subsidiary, Carrozzeria Ghia, was entrusted with the styling, producing a purposeful yet elegant design that has stood the test of time like few of its contemporaries. Aston Martin-owned Tickford built the composite bodyshells at Newport Pagnell.

The RS200 was first publicly displayed in 1984 and homologated in February 1986 after the required 200 examples had been built, all apart from the initial six prototypes being completed at Reliant's factory at Shenstone, Staffordshire. Its first World Championship event was that year's Swedish Rally where the car driven by Kalle Grundel finished 3rd overall, a most promising debut. The RS200 went on to achieve a total of 19 wins and 32 podium finishes at international level before the year's end, securing several national championships along the way. Sadly, that would be the limit of its rallying achievements, as FISA pulled the plug on the Group B supercars at the end of a season blighted by a number of fatal accidents, some involving spectators. Seeking to recoup some of the £10 million rumoured to have been spent on the project, Ford stripped down 120 RS200s and rebuilt them as road-legal supercars to be sold at around £50,000 apiece.

The car offered here is one of the later and ultra-rare 'Evolution' models, intended for the 1987 season and equipped with the much more powerful 2,137cc version of the BDT engine. Developed (around a new, thicker-walled cylinder block) by British engineer, Brian Hart, this physically larger engine could only be accommodated by modifying the chassis and firewall. In accordance with the rules, Ford had intended to build an additional 20 Evolution cars, but with Group B cancelled ended up modifying 20 of the first 200 chassis. An additional four Evolution cars were completed after the initial 20. It is worthwhile noting that in 1986 one of these Evolution cars, driven by rally ace Stig Blomqvist, set a Guinness World Record 0-60mph time of 3.07 seconds, which stood for an astonishing 12 years.

Chassis number '00105' was sold by Ford's Competitions Department at Boreham on 30th April 1987 to Mikal Nordstrom (receipt on file) and used by him for hill climbs and rally-cross. Subsequently, the car was sold to the JBJ Group, was returned to road specification and registered in Sweden. It was sold to the current owner on 13th September 2000 and is currently registered in Norway. We are advised by the vendor that the engine has been built by Geoff Page Racing and produces in excess of 600bhp, which is transmitted to the road via a competition-type gearbox. The car comes with a toolkit and a substantial amount of documentation together with the original leather-bound owner's manual and various items of original RS200 literature including original RS200 owner's club magazines.


Should the vehicle remain in the UK, import duties of 5% will be applied to the hammer price.
Original Source:
SELECTED BY - IDRIS THE SQUIRREL









Disclaimer:

Whilst Classic Chatter ("we") attempt to make sure that the information contained in this website is accurate and complete, we are aware that some errors and omissions may occur from time to time. We are not able, therefore, to guarantee the accuracy of that information and cannot accept liability for loss or damage arising from misleading information or for any reliance on which you may place on the information contained in this website. We highly recommend that y check the accuracy of the information supplied. If you have any queries with regard to any information on our website, please contact us at

j

e

f

f

.

c

l

a

s

s

i

c

c

h

a

t

t

e

r

@

m

a

i

l

.

c

o

m

.